ProPublica has updated "Nursing Home Inspect," our database that helps you find problems that inspectors identified in more than 15,000 U.S. nursing homes, to make it easier to search government reports and browse serious issues. We've added new data, a redesigned user interface and advanced search features.
We have expanded the database's search capabilities, adding advanced search features that allow users to search reports in multiple states or territories, filter by type of inspection report, focus on inspections within a date range, and look specifically at reports with certain kinds of issues, also called "deficiencies." These filters will allow journalists and others to quickly identify problematic homes in their searches, and will make it easier for curious researchers to ask advanced questions of the data.
Our new advanced text search features allow users to search for multiple terms simultaneously by separating terms using AND or OR or to search for exact phrases by putting terms in quotation marks. The search also allows users to search for a word like "elope" and automatically see results for other forms of the word, like "elopement" and "eloping." For more information, please read our guide on how to use nursing home inspect.
To aid local journalists and others, we've added a section to each state or territory's page highlighting serious deficiencies found in that location, allowing users to quickly identify homes that were recently cited for putting residents in immediate jeopardy. We've also added pages where you can see all nursing homes in a given county.

The database now also includes information on how many hours, on average, a registered nurse spends with residents and on nursing staff turnover, both of which experts say are indicators of the quality of care in a home. Pages for individual homes now show flags indicating whether the home's ownership has changed in the last 12 months, whether the home is behind schedule on government inspections, and whether the staff's COVID-19 vaccination rates are low relative to other homes.
In addition, we now have an expanded view of inspection reports that allows users to see detailed information about each deficiency, including its scope and severity, category and description.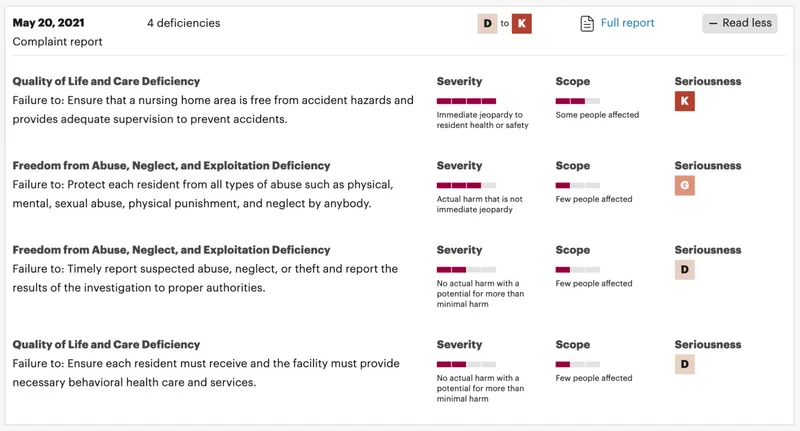 ProPublica plans to continue enhancing "Nursing Home Inspect" with new data and features in the coming months. If you write a story using this new information, come across bugs or issues, or have ideas for improvements, please let us know!